Cats played at the ABB Music Theatre in Zurich, Switzerland from August 1991 to December 1993. Immediately after closing in Zurich, the production became the 1994 European Tour, taking the set, production properties, and many of the cast on the road.
Production Specifics
The Zurich production was a descendant of the Vienna production, meaning that, amongst other changes, Griddlebone was played by Jennyanydots rather than Jellylorum. Jemima is credited as playing Quaxo - this is nothing to do with Mistoffelees, rather "Quaxo" is the name of the lead tap-dancing Beetle in Gumbie Cat. The original choreography had an extended tap routine for Quaxo, making the role as prominent as Genghis the lead Siamese Cat, or Rumpus Cat.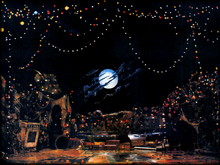 Production Credits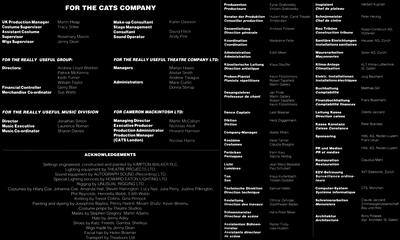 Cast
August 1991
April 1992, May 1882 cast lists may be for specific performances, no swings listed.
 ?? - December 1993
Gallery