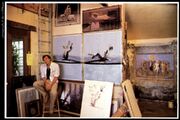 Robert Heindel (October 1, 1938 - July 3, 2005) was an American painter, illustrator, and stage designer best known for his paintings of dance and performing arts. Heindel created over 1300 paintings and drawings of dance and performing arts during a twenty-five year period in the late twentieth century. He was described as the best painter of dance of his time.
Cats
Heindel was commissioned in 1987 by Andrew Lloyd Webber to paint impressions from the musicals Cats and The Phantom of the Opera.
Fine Art prints of these works were sold at the London and Broadway productions.
Links