A cast recording of the modern Japanese production was released by Universal Music Japan on 24 April 2019, in honour of the production reaching 10,000 performances.
Two versions of the recording were released: a limited "memorial" edition[1] and a regular edition.[2]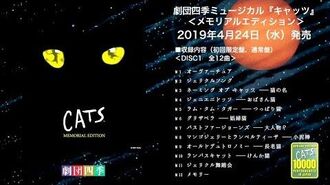 Credits
Tracklist
* Includes "Invitation to the Jellicle Ball"
** Includes "The Song of the Jellicles"
Source: product details - shiki.jp
Peak Chart Positions
Gallery
References