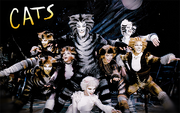 Many productions of Cats have released cast albums. "Memory" holds the record as the most recorded song in the world!
Video Recordings
The first official video recording of Cats is the 1998 film, which was a recreation of the stage production. A major motion-picture movie of Cats was released in December 2019, directed by Tom Hooper.
Audio Recordings
A list of all of the official cast recordings of Cats. "Highlights" denotes a recording that is only available as a selection of songs, designed to fit on a single record/cassette/CD. A live recording is one that was recorded of one (or more) live performance, rather than in a recording studio. There are also numerous studio recordings made of the music by non-cast studio singers, which are not included in this list.
1981 - Original London cast recording
1983 - Original Broadway cast recording
1983 - Original Vienna cast recording - Highlights
1984 - Hungarian cast recording - Highlights
1985 - Original Australian cast recording - Only English recording with every song
1985 - Japanese cast recording - Live recording
1985 - Original Norwegian cast recording - Highlights
1986 - Original Hamburg cast recording - Live recording
1987 - Original Amsterdam cast recording - Live recording
1989 - Japanese cast recording
1989 - Original Paris cast recording
1991 - Original Mexican cast recording - Highlights
2001 - Japan cast demo - Four track press promotional release
2004 - Original Polish cast recording - Highlights
2004 - Original Czech cast recording - Highlights - No commercial release due to production company bankruptcy
2005 - Original Moscow cast demo - Five track press promotional release
2006 - Dutch Tour cast recording - Highlights - Live recording
2009 - Original Italian cast recording - Highlights
2011 - German Tour demo - Three track promotional release
2019 - Japanese cast recording
2019 - Cats movie soundtrack - Highlights
Trending pages
All items (23)